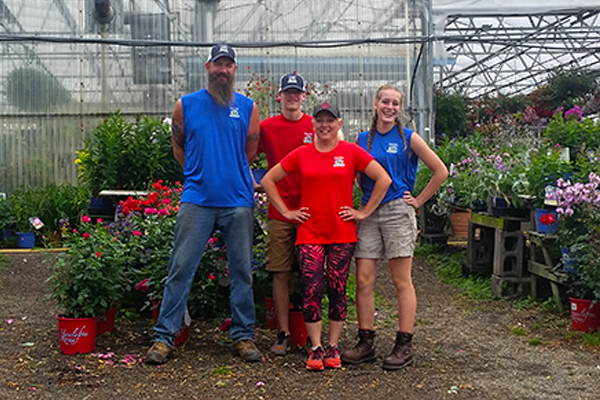 Mike Weber Greenhouses, Inc. has been growing quality plants in Western New York for more than 40 years. Located in West Seneca, we are well situated to serve all of the Buffalo area.
Originally started as a traditional greenhouse operation, we have grown to be the leader in our area in niche markets. We specialize in areas that require more attention than simple annual bedding plants. These areas include: perennials, accent liners, herbs, winter pansies, cool crop liners and begonia liners.
The business has grown to include 5 full-time employees plus 13 part-time employees in the springtime. We deliver our plants to most points in the Northeast and have the ability to ship them anywhere in the United States. Mike Weber Greenhouses Inc. is a niche greenhouse operation that sells to both retail customers and wholesale customers.
The company was started in 1978 by Mike and Susan Weber. Mike Weber Greenhouses, Inc. began by growing traditional crops, such as foliage plants, poinsettias, Easter bulbs and flats of annual bedding plants. Over time, the business has evolved into a specialty grower.
The original greenhouses consisted of 4 A-frame glass houses covering 8,000 square feet. Over the years the industry changed and so have the greenhouses. Today, there are 14 growing greenhouses covering more than 66,000 square feet plus ground mixing facilities and 2 head house areas where most of the work is done.
Currently, the retail part of the company contributes 20% to the total business. The other 80% is done through the wholesale trade. Products that are offered for wholesale are: Accent Liners, Begonia Liners, Cool Crop Liners, Perennials, Herbs and Gardener's Own Winter Pansies, many of which are available in pre-finished sizes.